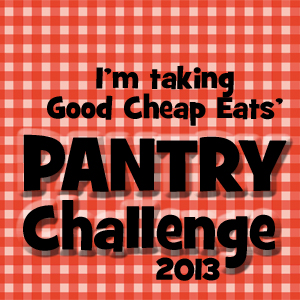 Happy New Year readers! Last year was a year of trials for my family, time to start the year off right. So lets eat the pantry! No, not the actual pantry, that would be silly and full of splinters. Lets eat the majority of the contents starting today, January 1, 2013. If you would like a detailed description of this challenge please scoot over to
GoodCheapEats.com
. This mama is a frugal one and she has been doing this challenge for years. I first saw this challenge last year on
TammysRecipes.com
and thought it would be fun to do. If I hadn't been massively pregnant and had just moved, I totally would have! But now I am not, so here we go.
I have taken inventory, I have thought of meals, and I have made a menu for the month.
What's on the menu this week:
Tuesday: Baked ham, baked potatoes, peas, carrots and cream style corn.
Wednesday: Lentil soup with ham and vegetables, cheddar bacon cornbread.
Thursday: BBQ chicken sandwiches, oven fries, coleslaw.
Friday: Chicken divan with broccoli, cranberry sauce.
Saturday: Homemade pizza.
Pantry used:
ham
potatoes
peas and carrots
cream style corn
ham bone
lentils
bacon
cheddar
cornmeal
flour, etc.
whole chicken
BBQ sauce
fries
coleslaw dressing
broccoli
bread crumbs
cranberry sauce
pizza sauce
sausage crumbles
mozzerella cheese
misc. veggies from fridge
Grocery List:
whole wheat buns
coleslaw
cream of chicken soup