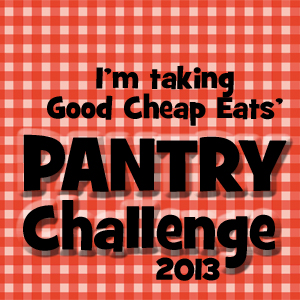 Day 3 and I haven't given up yet! It has to be a record. I am actually enjoying this, I haven't had to panic at 5:00 and do the "we are eating whatever crap I can find in the freezer" again. Liberating! And part of this is that I have rekindled the love affair with my slow cooker. I LOVE it. I take about 15-20 minutes in the morning, switch it on and walk away (or run and scream "I'm free!"). Like today I fixed up a roasting chicken I had thawed from the freezer and cooked it til it was falling apart. Then I picked it clean, threw the bones, skin and other rejectamenta back into the crock and reserved about 3 cups of breast meat for tomorrow. The rest of the meat I shredded and used up a bottle of BBQ sauce (I even rinsed it out ;-) ). When it was time for dinner I threw the rest of a bag of fries in the oven and grated cabbage and carrots for coleslaw using up yet another bottle with the dressing (rinsed that one out too!). It was delicious. After dinner I attended to the chicken remains in the slow cooker. I added half an onion left over, a stalk of celery, 2 small carrots, a bay leaf, a few sprigs of thyme and s&p. Covered it with water, stuck it on low, I will have stock in the morning. Yay multitasking, sleeping and cooking at the same time, didn't know I was that talented did you?
So here was the days meal recap:
Breakfast
Fried eggs and milk for Puzzle Boy, fried egg, cornbread and oj for mama. I had my other smoothie for a snack late in the morning.
Lunch
PB & J for P.B., leftover lentil soup and more cornbread for mama.
Dinner
BBQ chicken sandwiches, coleslaw and fries. The picture doesn't do it justice, it was sooo gooood!!!
Shopping Trip:
Trader Joe's
Organic brown eggs- $3.79
Sea salt- $1.49
Organic unsalted butter- $4.79
Organic frozen broccoli florets- 2 @ $2.49
Total: $15.05 (gift card)